Flutter Sleeve Dress Tutorial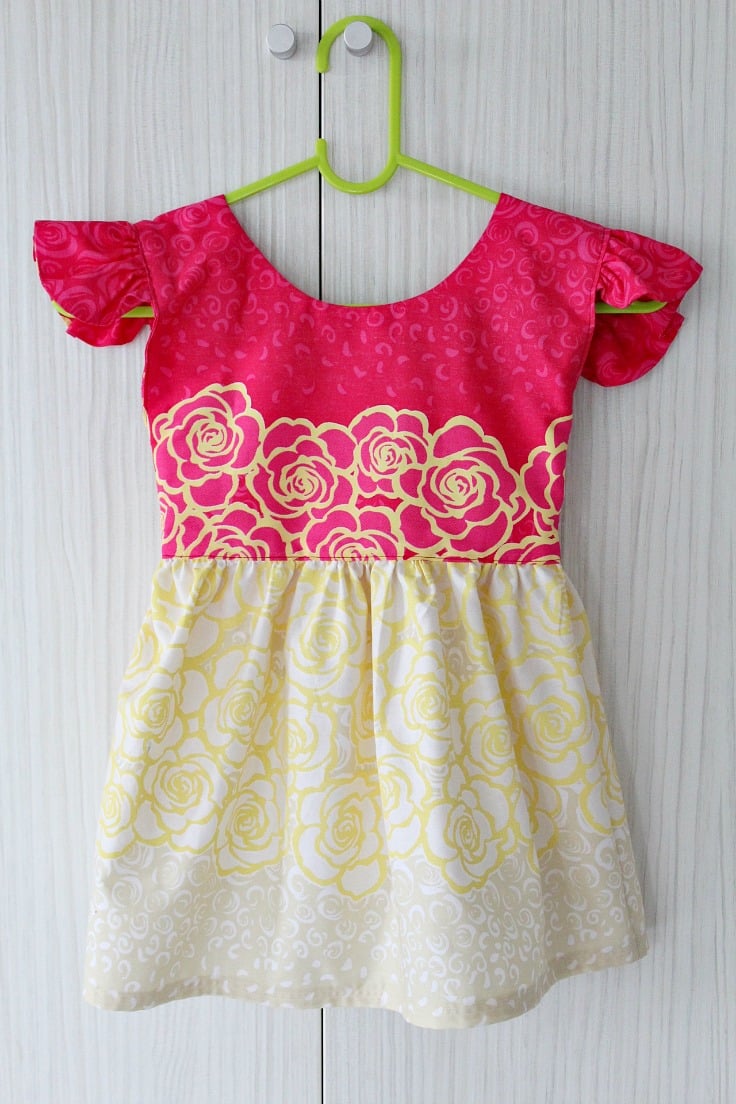 Hi guys! I have a really fun and easy sewing project to share with you today! It's something I've been afraid to start working on for ages. I'm not much of a sewist, I have loads to learn about it and not enough time, my sewing machine is very rudimentary and I also have 2 left hands. But that doesn't mean I shouldn't try making pretty stuff, even if I fail. Trying is more important than succeeding but this time I was lucky as I did have some success!
The result of a 3 hours work (yes, it took me that long lol) is a sweet and cute, colorful, comfortable Flutter sleeve Dress for my 4 years old little girl. And the best thing (that I'm very proud of) is that I did not use a pattern, I made my own, using just a few measurements, common sense (and a lot of praying that I won't mess it all up). I am also completely in love with the flutter sleeve, it's so cute and girly!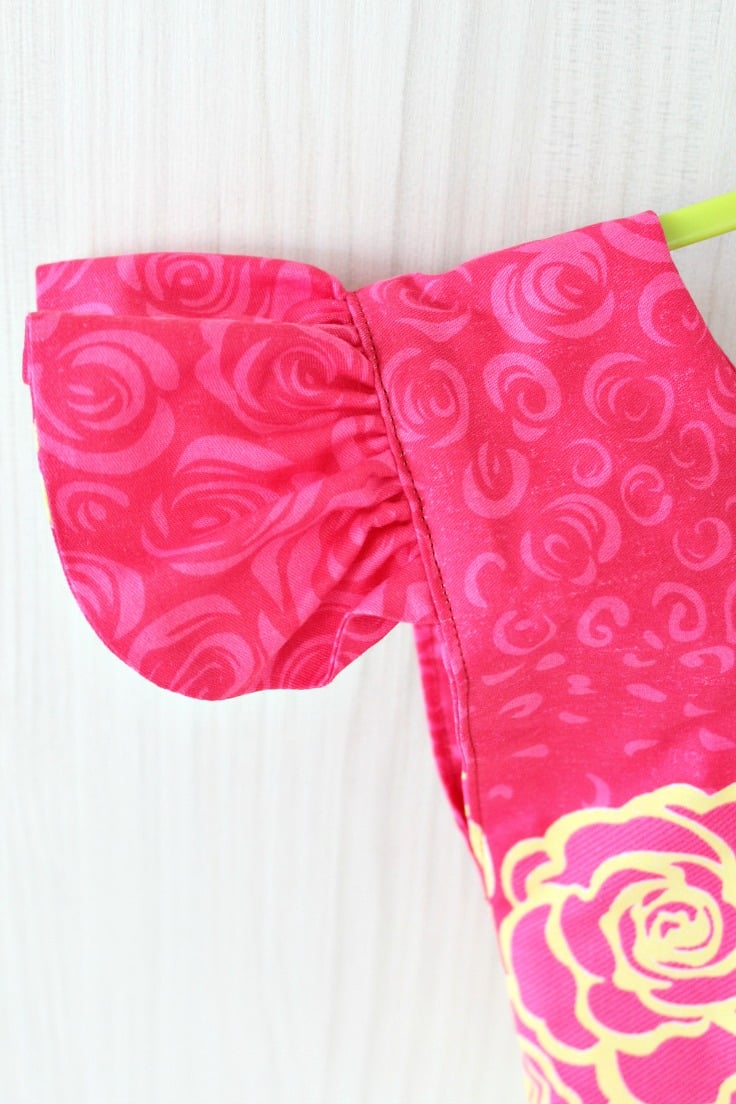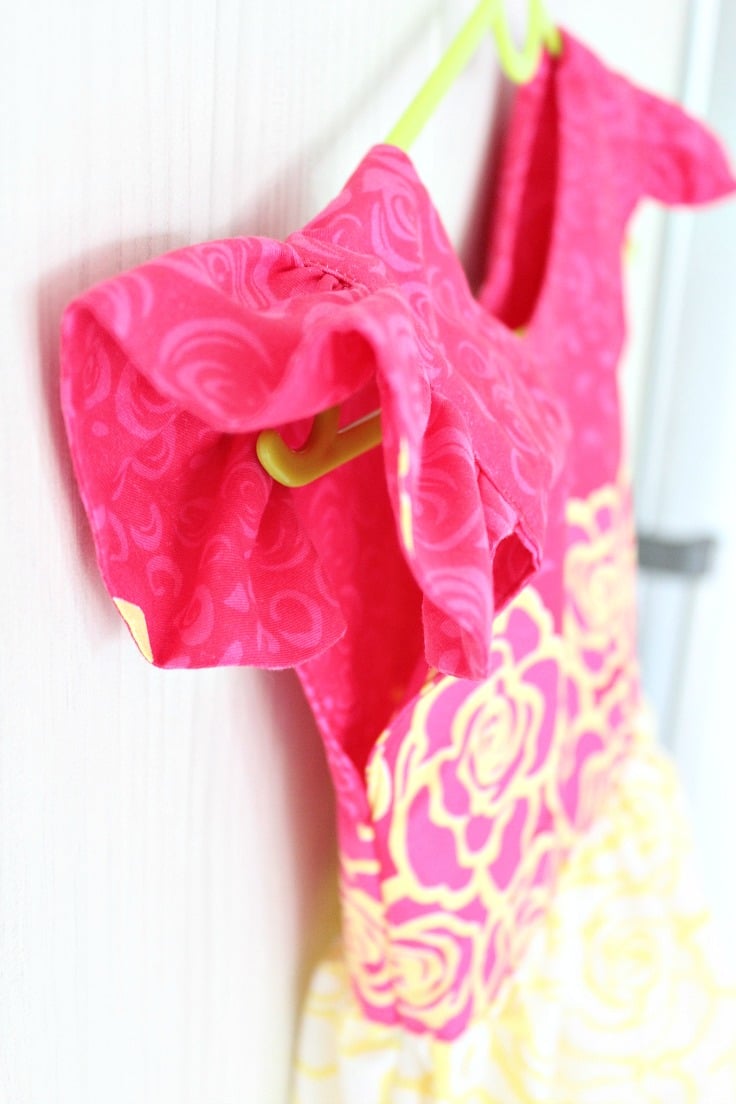 You are going to fall head over heels for each flutter sleeve dress that you're gonna create! I made this dress extremely simple; the instructions are meant to help any beginner sewist as myself, who don't know how to master drafting patterns, sewing intricate sleeves or a curved underarm and even for those who don't own a serger and their sewing machine lacks a lot of options so they're not able to serge the fabric. I don't own a serger and I'm supposed to use a zig-zag stitch with the overcasting foot I purchased but it gives such a nasty finish I'd rather skip it and just fold the fabric twice. I know, I'm a rebel! For future I think I'd better purchase a pair of pinking shears, I like pinked seams!
Flutter Sleeve Dress Tutorial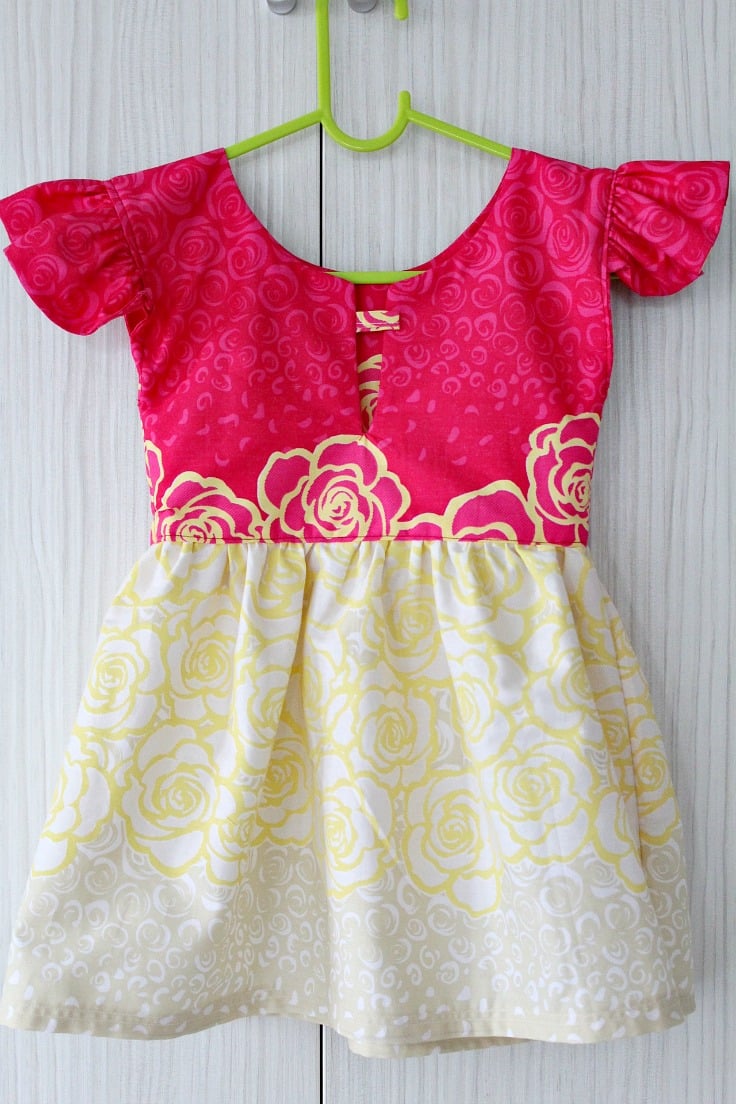 This is for a 4 years old girl of 104 cm height, 18 kg weight. I measured her shoulders to establish how wide I want the bodice to be, then from shoulders to under chest, to establish the bodice's height. Then I measured from shoulders to where I wanted the dress to fall, to establish the length of the skirt (subtracting the bodice). I approximated the circle's diameter (where the head goes in) using an old dress and I left an opening in the back, closed with a button, to make sure her head fits through the circle.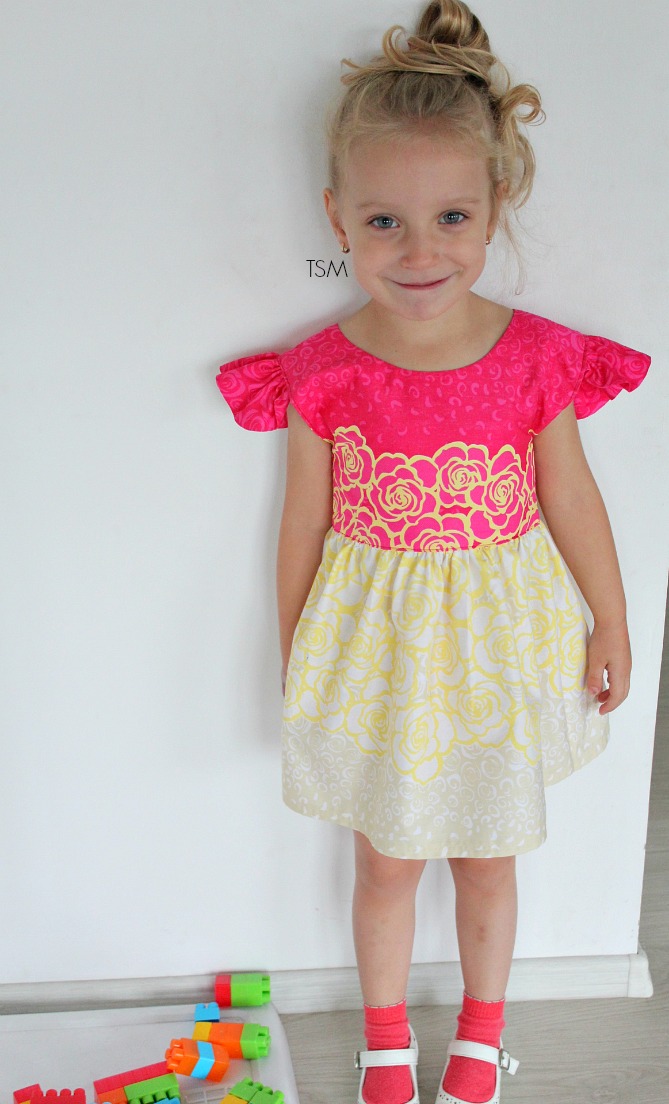 Materials needed:
100 % cotton fabric in 2 different patterns – fabric 1 for bodice and sleeves and fabric 2 for skirt (optional; you can use same fabric for both bodice & skirt): 64 cm W x 100 cm H for bodice = 25″ W x 39″ H; 136 cm W x 40 cm H for sleeves = 53 " W x 16″ H; 122 cm W x 68 cm H for skirt = 48″ W x 26″ H)
contrast or matching thread
Sewing machine and serger if you have
scissors
ruler
baking paper to draw the pattern
Fabric marker
1 button
small piece of ribbon, fabric, elastic or lace to make a loop for the button
Directions for the Flutter sleeve dress tutorial: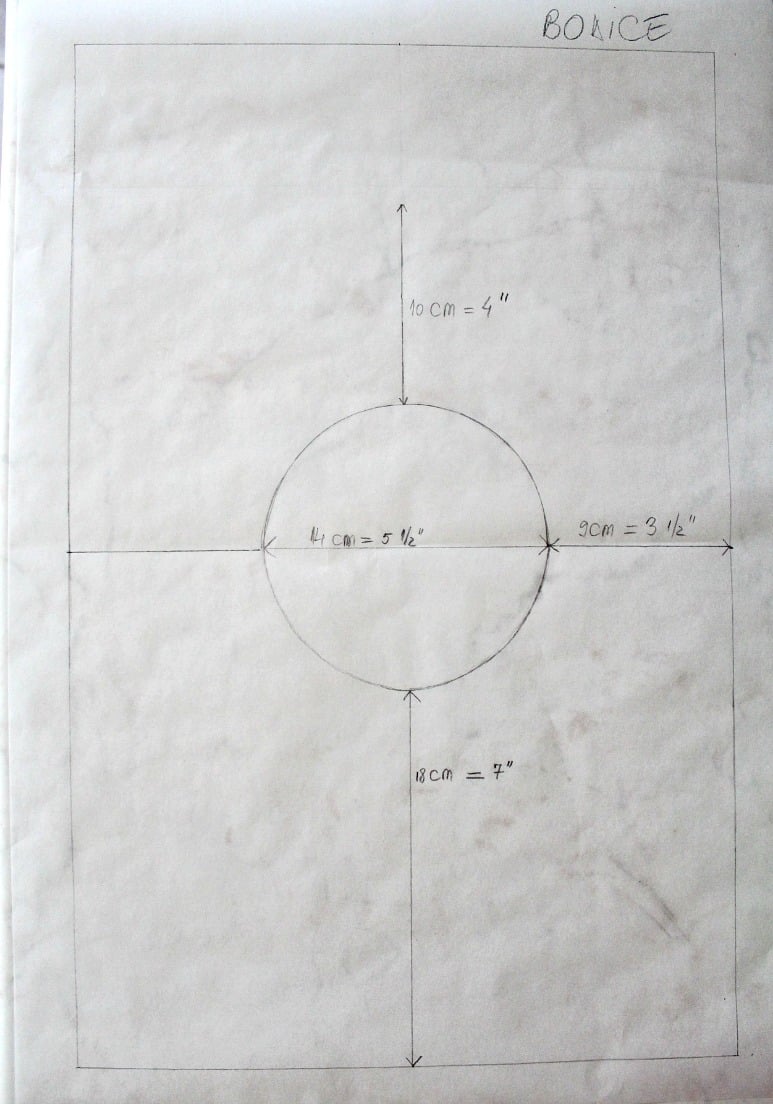 Start by cutting the fabrics for the Bodice: 2 times 32 cm W x 50 cm H = 12″ W x 20″ H – Fabric 1
Cut 4 piece of 34 cm W x 10 H for the sleeves = 13″ W x 4″ H – Fabric 1
Then cut 2 pieces of 61 cm W x 34 cm H for the skirt = 24″ W x 13″ H – Fabric 2 (if you want to make the skirt longer add an inch or two to the height)
Put bodice fabrics together facing wrong side
Decide which one is going to be the outer bodice
On the "outer" bodice fabric draw a circle for the neck using the measurements in the photo above.
Leave a 10 cm = 4″ slit in the back.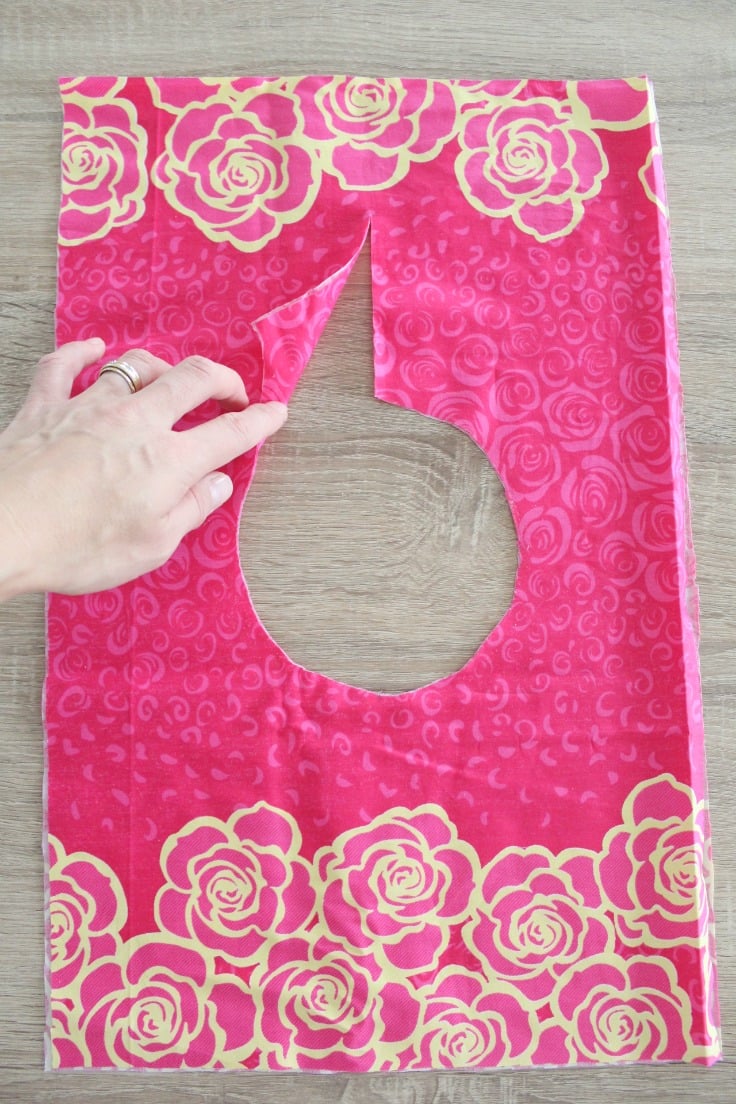 Cut out the circle and cut down the slit.
Put the bodice fabrics right side together
Take the lace, elastic, ribbon etc piece and make a loop
Place the loop in between fabrics, on the slit, as close to the top as possible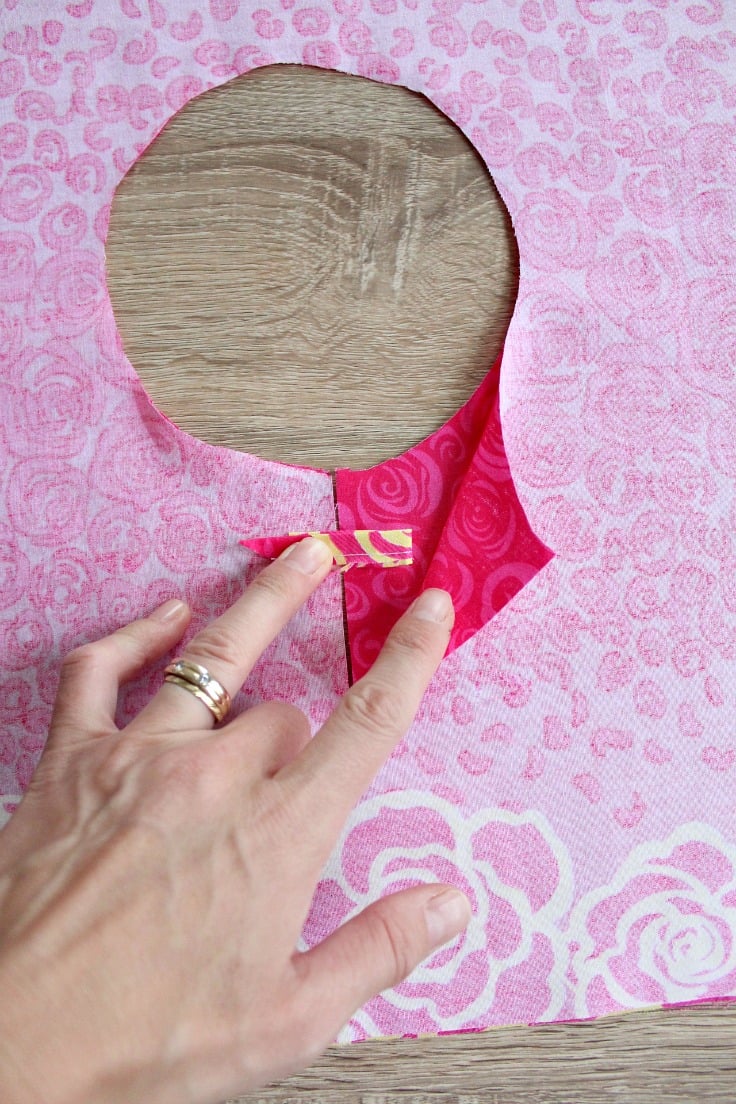 Sew the fabrics together with a 0.50 cm = 1/8″ seam allowance, around the hole and line.
Clip around the circle as shown here.
Turn the fabrics right side out, finger press and iron press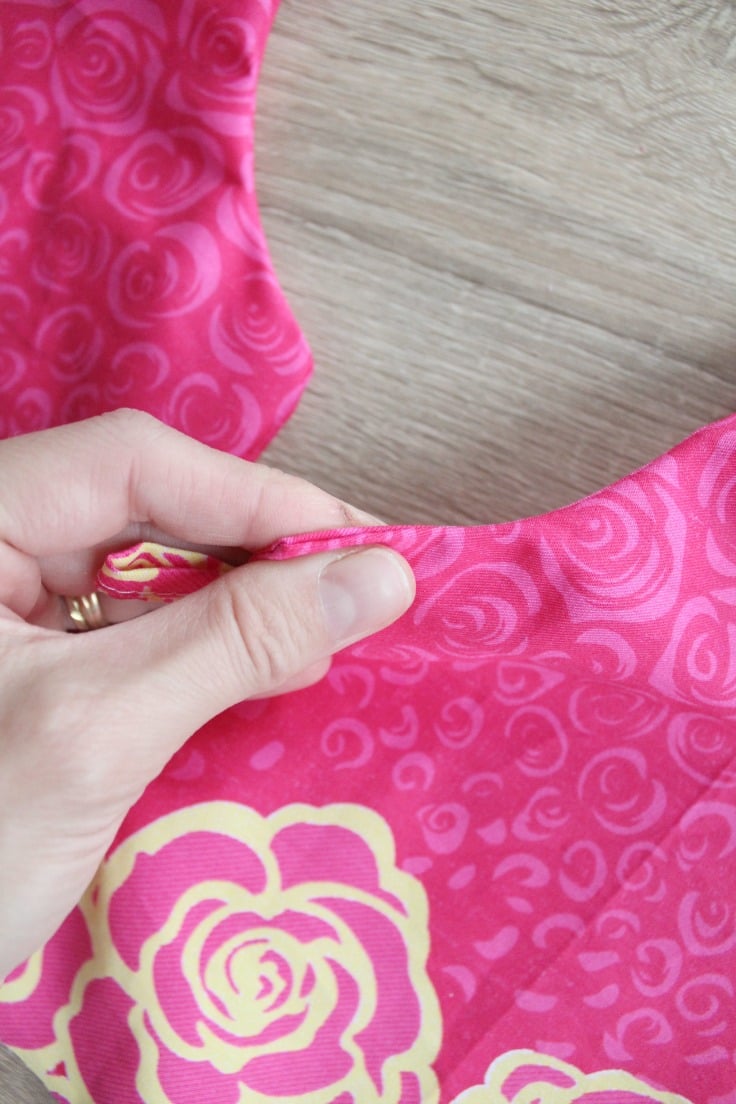 Serge the top and bottom edges of the bodice. If you don't have a serger, use the zig-zag stitch on your machine to finish seams or fold fabric in twice, 0.50 cm = 1/8″ each fold (note: this works well on thin fabric only)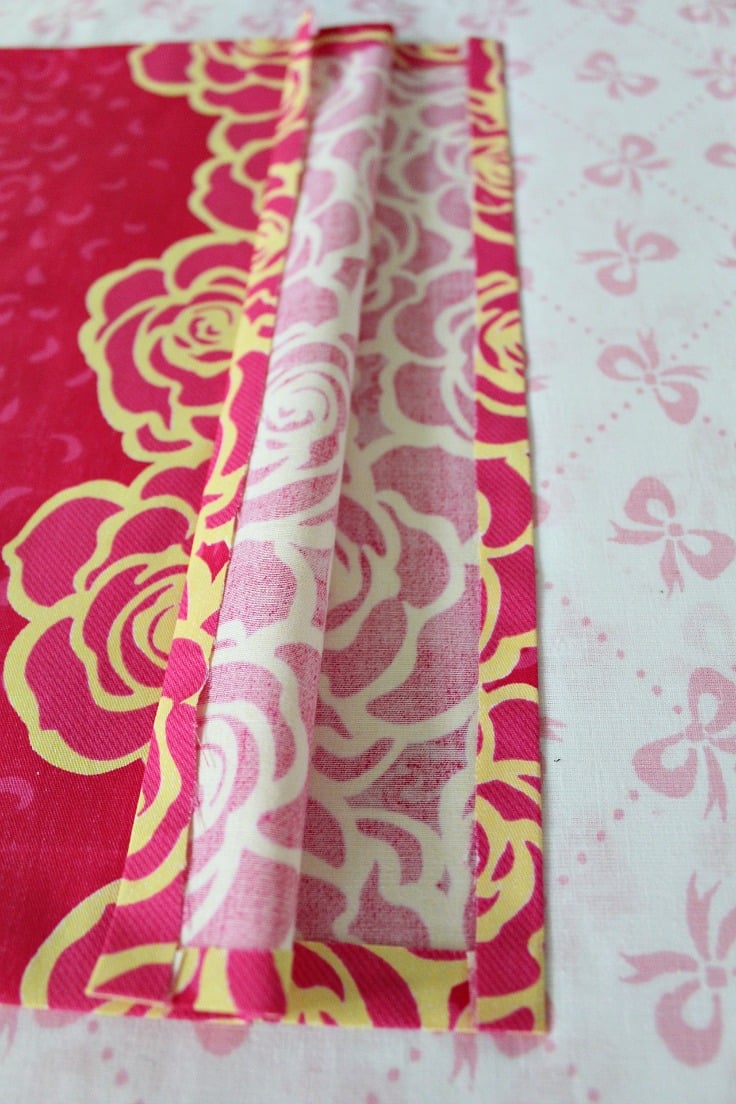 Take the sleeve fabrics pieces and use something round like a bowl to round off the edges
Cut along the line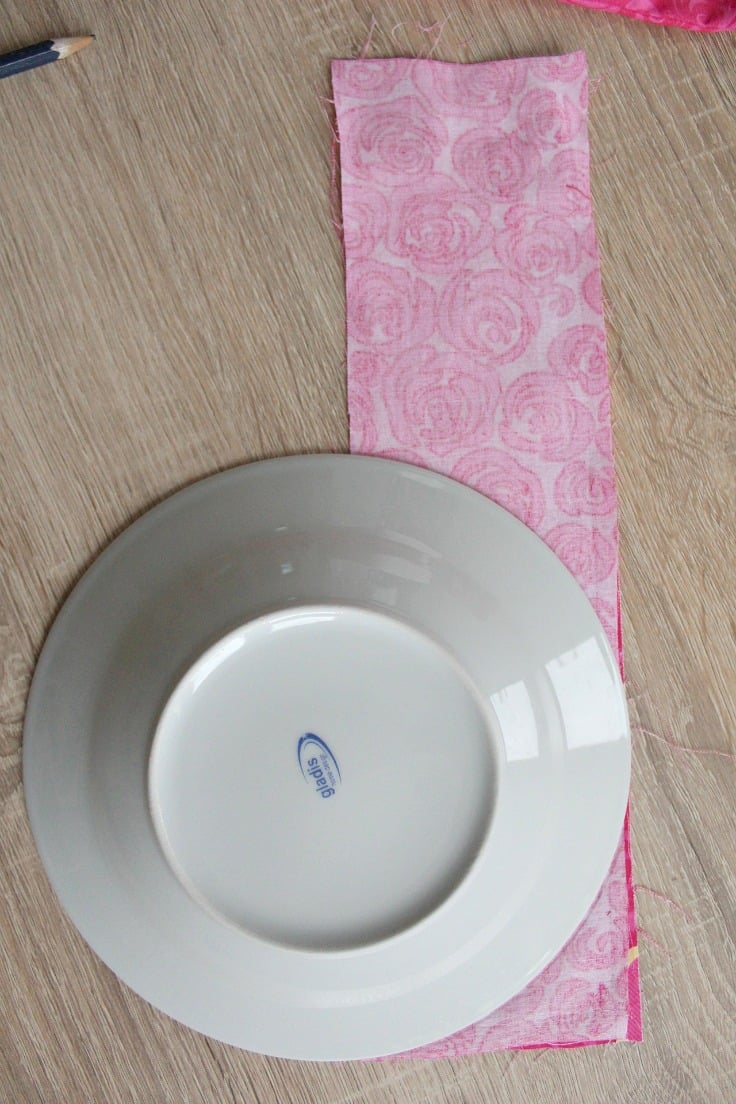 Put 2 fabric pieces right side together
Sew all around, leaving an opening on the straight side of the fabric, to turn the fabric right side out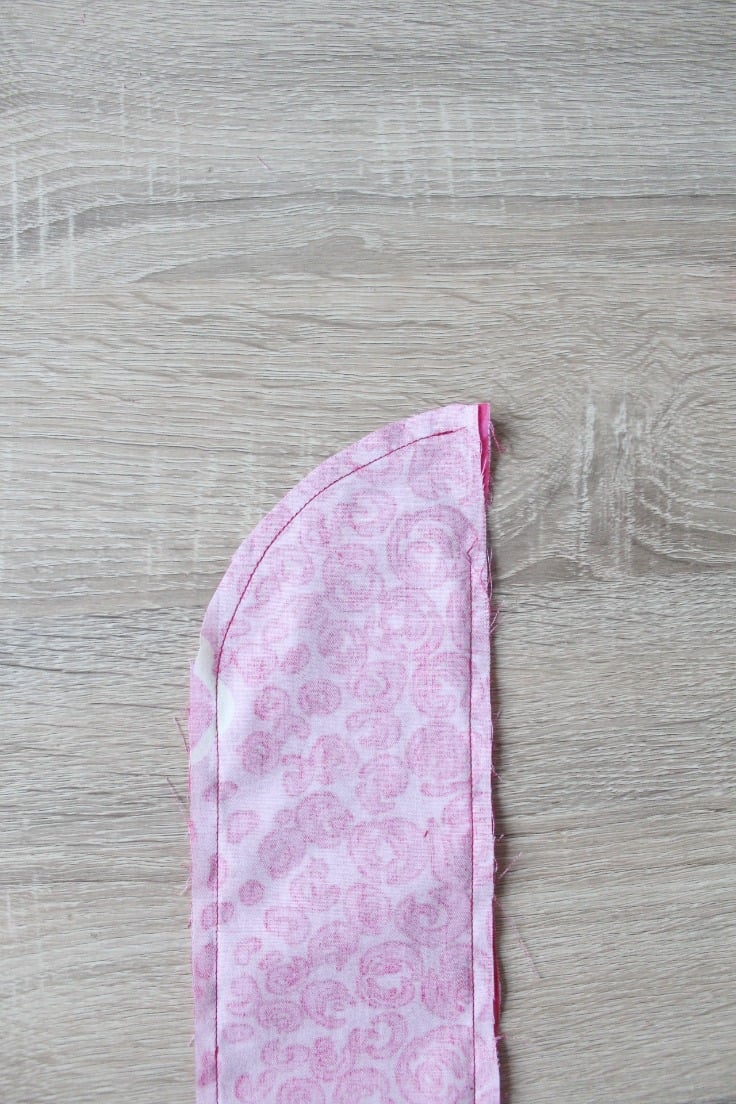 Turn the fabric right side out and top stitch to close the sleeve opening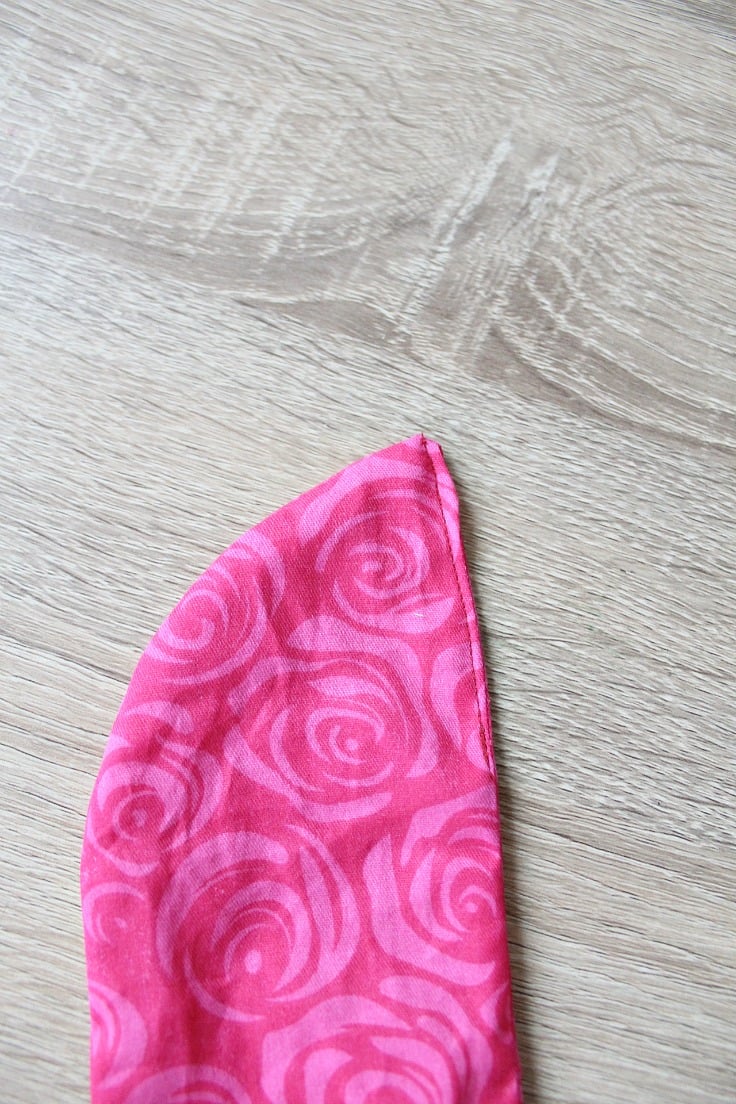 Finger press and iron press
Gather the sleeve using a loose stitch setting on your machine. Back stitch at one end, where you start sewing the loose stitch. When finish stitching, leave at least 6 cm = 2″ long thread out. Pull fabric with one hand and on one thread with the other hand. Gather as much as you like.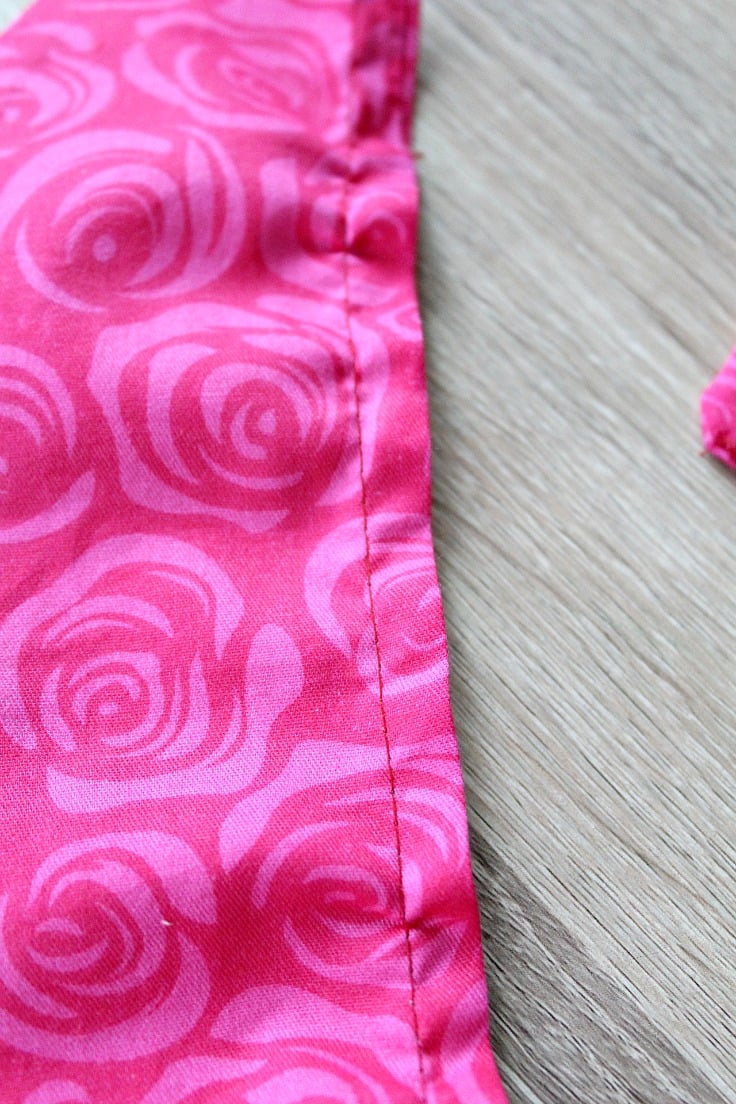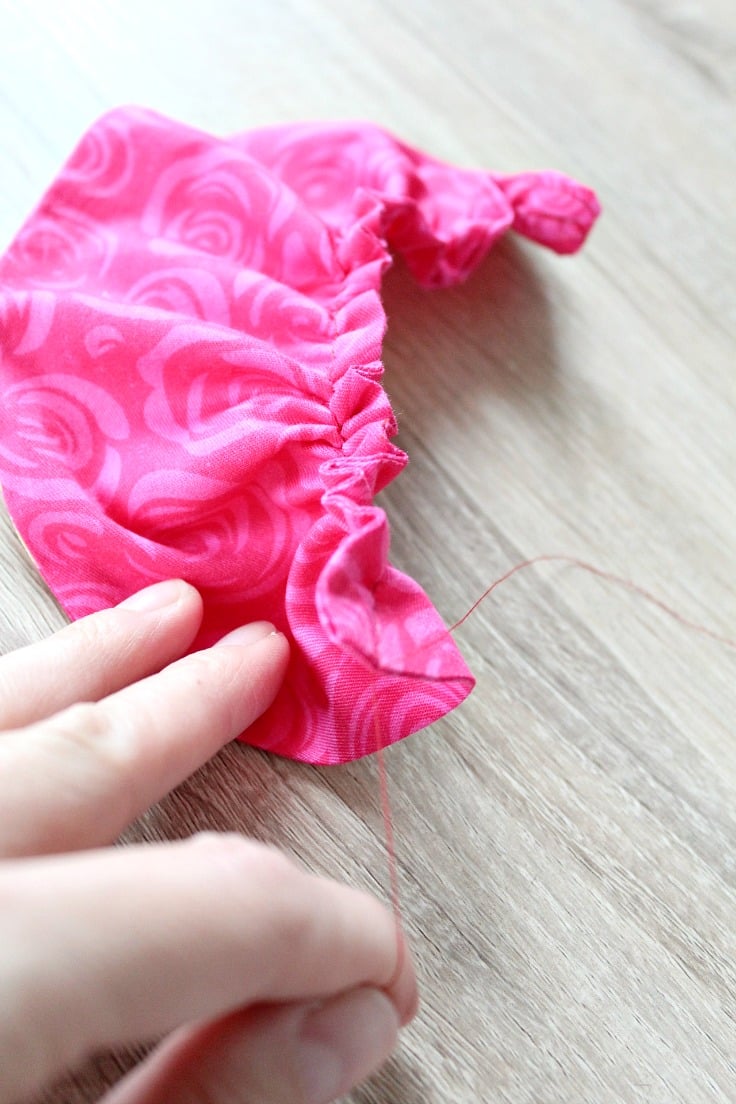 Repeat for the other sleeve
Take your bodice, place the sleeve in between outer and inner bodice fabric, with the outer right side out, pin the sleeve centered on the hole for the neck and sew in place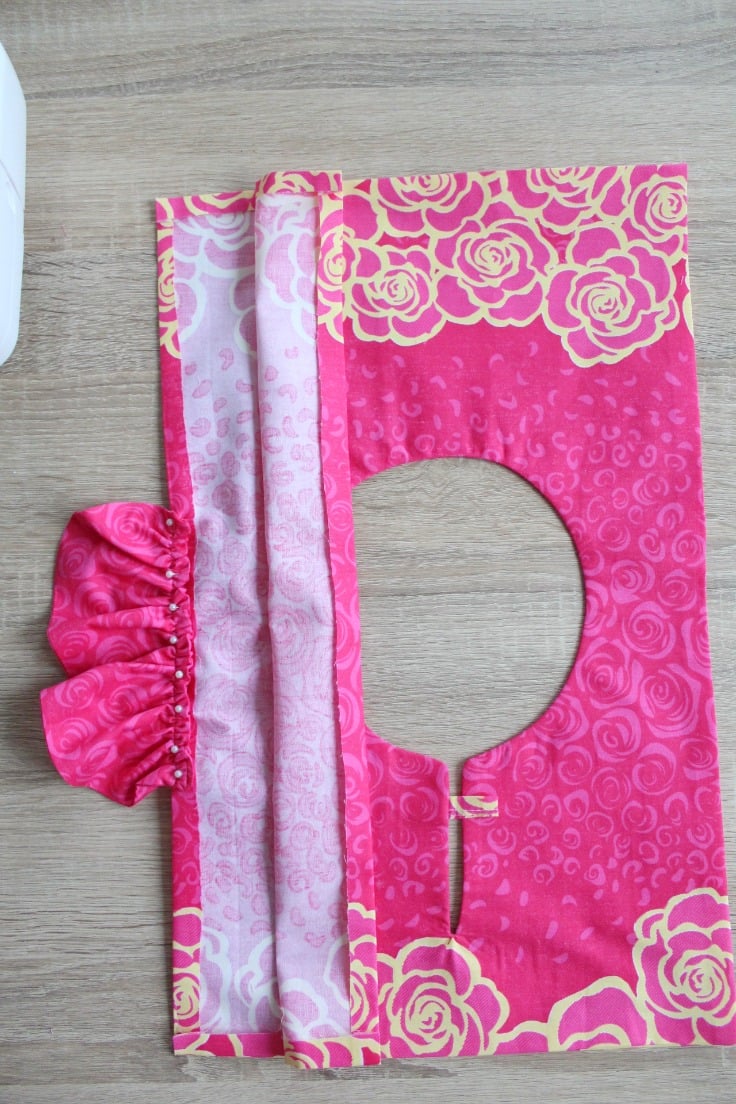 Place the outer bodice over and stitch all the way through, stopping 2 cm = 1″ at the ends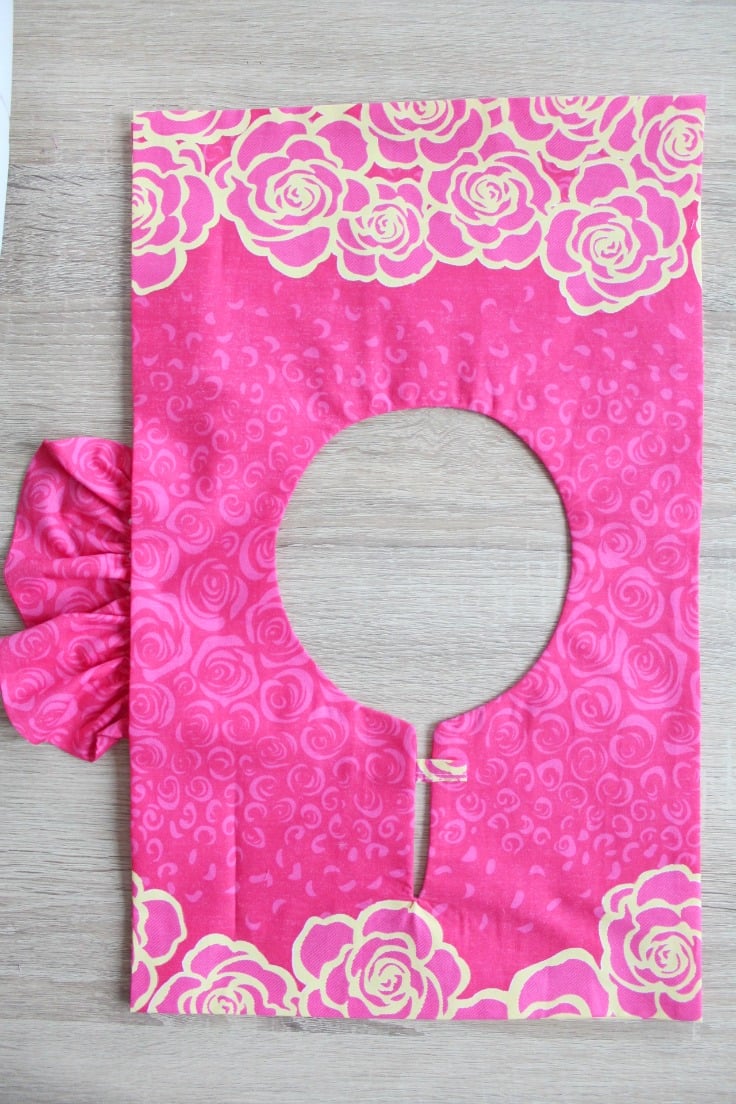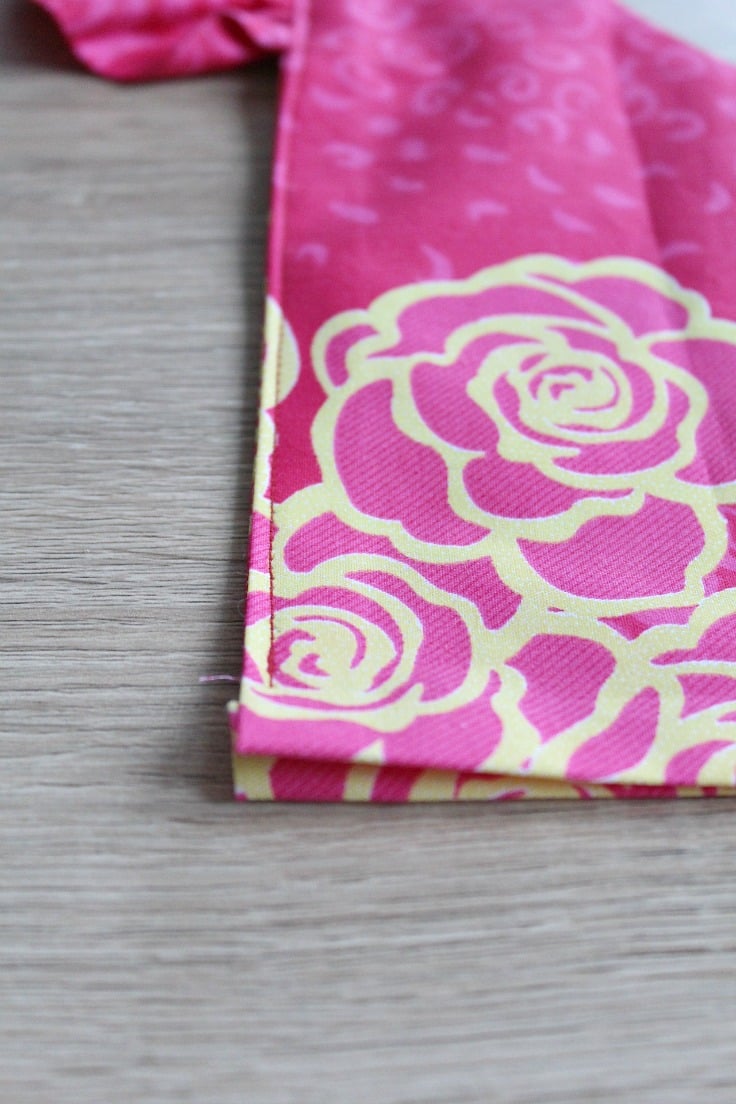 Take your skirt fabrics and serge on all sides or fold fabric twice as indicated above to finish the seams. If you use a serger, fold fabric twice only on the hem. Sew 2 stitches on the hem.
Gather the skirt fabrics so that they match the bodice' width
Take bodice and place right side out
Place gathered skirt fabric right side out in between bodice fabrics and stitch to the inner bodice fabric.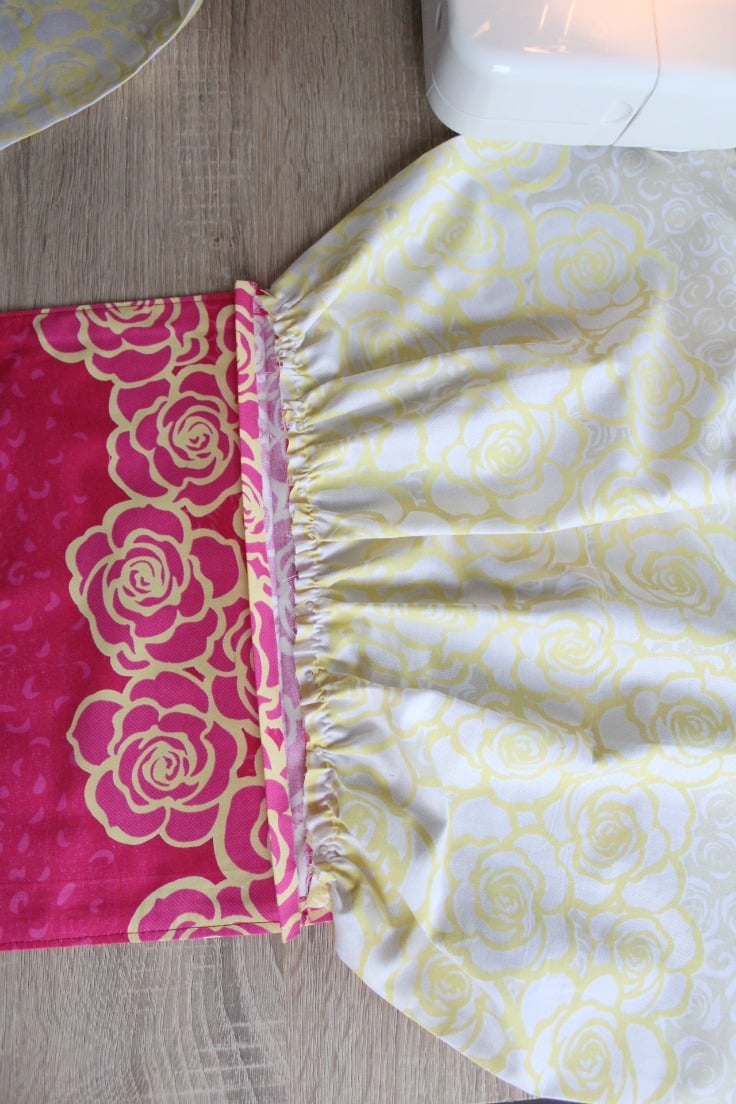 Place outer bodice over and stitch again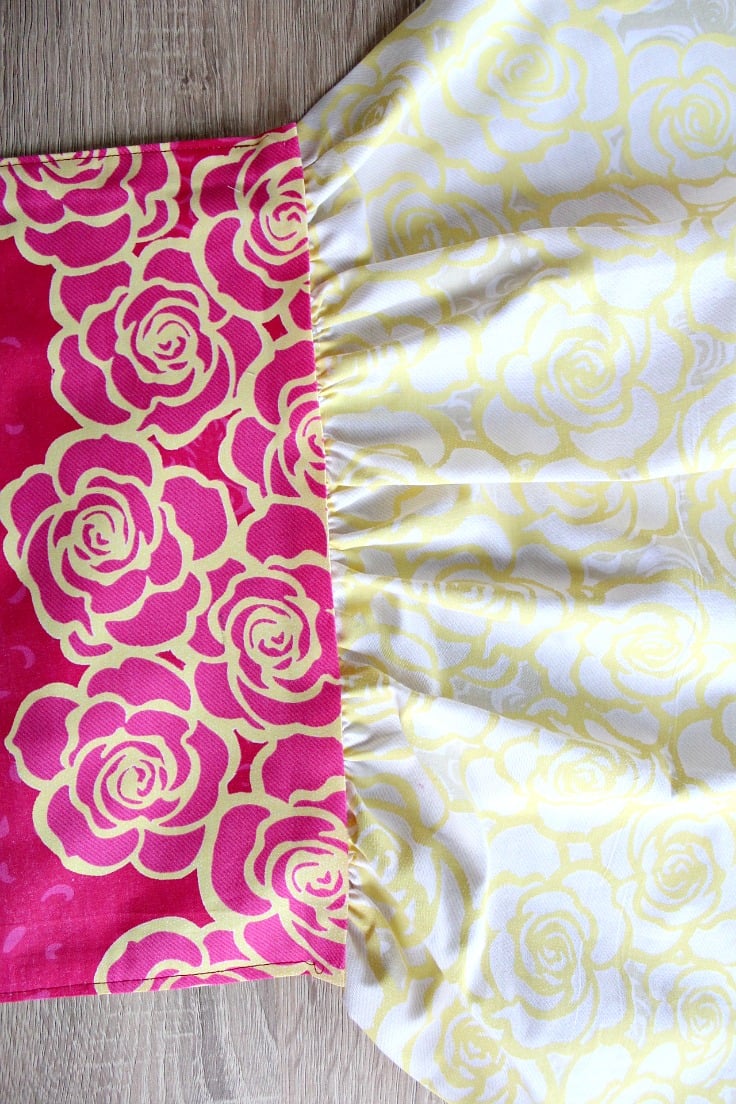 Now it should all look like this and all you have to do is stitch the sides together, starting from the hem and stopping 7 cm past the body. I wanted this dress to be a surprise to my daughter and took the chance, I didn't have her try it on before sewing the sides but I suggest you don't skip this step as your dress might need some adjusting. If all fits well, just sew the sides up.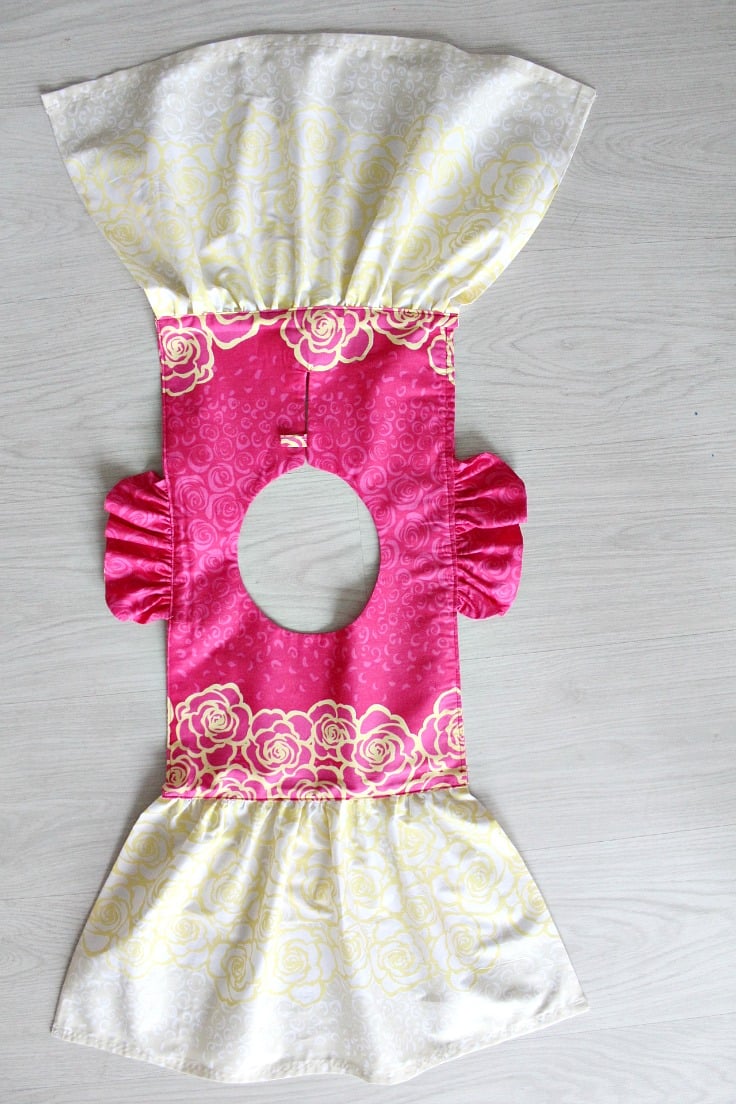 And you're done!! Enjoy your hard work and give yourself a good pat on the shoulder! I found this an intermediate project for a beginner sewist. Let me know how your flutter sleeve dress turned out, I'd love to see photos. Here's my little angel modeling the dress which by the way she's crazy about! Yay!